Unique Airbrushed Flags by Cookie
The flag starts as a blank canvas... you provide the photos and information; Cookie brings his talents and the flag comes to life!
Have a cartoon of yourself, your pets, your vehicle or anything else you'd like, airbrushed onto a 5x3ft white flag with your chosen slogan or name! All inks used are weatherproof and washable!
These flags are perfect to fly at your campsite, to wave at a festival and are often used as an indoor wall hanging!!! 
Included is a hessian bag to store your flag; airbrushed too! 
We offer various options for different needs, you can add additions by using drop-down menu. What you want on the flags can be so flexible;  if you are unsure email us at cookiecartoonery@gmail.com to ask us.
Perfect gift idea.
"Initially had an amazing flag for our van and then ordered a hoody for my husband for Christmas
Had his very graphic T6 on the back and I have to say it was amazing Can't recommend them enough, creativity is excellent
Will be back for more products. Thanks guys" Susan Rees (returning Customer)
"Great talented man who created a brilliant personal flag for my sister. Really friendly and helpful and overall brilliant purchasing experience. Thanks so much Cookie for the flag and Kim for all your help sorting the order out.
Recommend Cookie soooo much and won't hesitate to use again." Tony Simmons (returning Customer)
"Bought a flag for my Husband for Christmas. Kim was fantastic in organising at speed. The flag far exceeded my expectations and was without a doubt my husbands favourite present. The flag was intended to by used at VW festivals but its so good its currently on the lounge wall. Cookie is so very talented we would definitely recommend and use again. Thank you so much for an amazing flag." Olive Rockett
Starting price is £52.95. 
What would be included...here are some examples:
2 people, 1 vehicle, 1 child/pet - you choose the background festival, beach, mountains, forest etc..
or
4 people, 1 child/pet- you choose the background festival, beach, mountains, forest etc..
or
2 vehicles, 1 person - you choose the background festival, beach, mountains, forest etc..
If you want extra to one of the options above this is fine, we can sort, price varies depending on the additions you require. There are drop-down boxes for additions when ordering.
Free Postage and packaging in UK
(There are many more examples of completed flags at Cookie's Facebook Page
All quality photo's need to be sent to his email address: cookiecartoonery@gmail.com
(Clear headshots of people and pets are required, if the quality is poor then this will add delays to producing your item)
(Other useful information to help us:
* what is the registration number of the vehicle if you want this included, 
*who drives, 
*what saying do you want, 
*what background do you want? (beach, river festival etc...)
At busy times it could take 4-6 weeks to make your unique personalised flag order.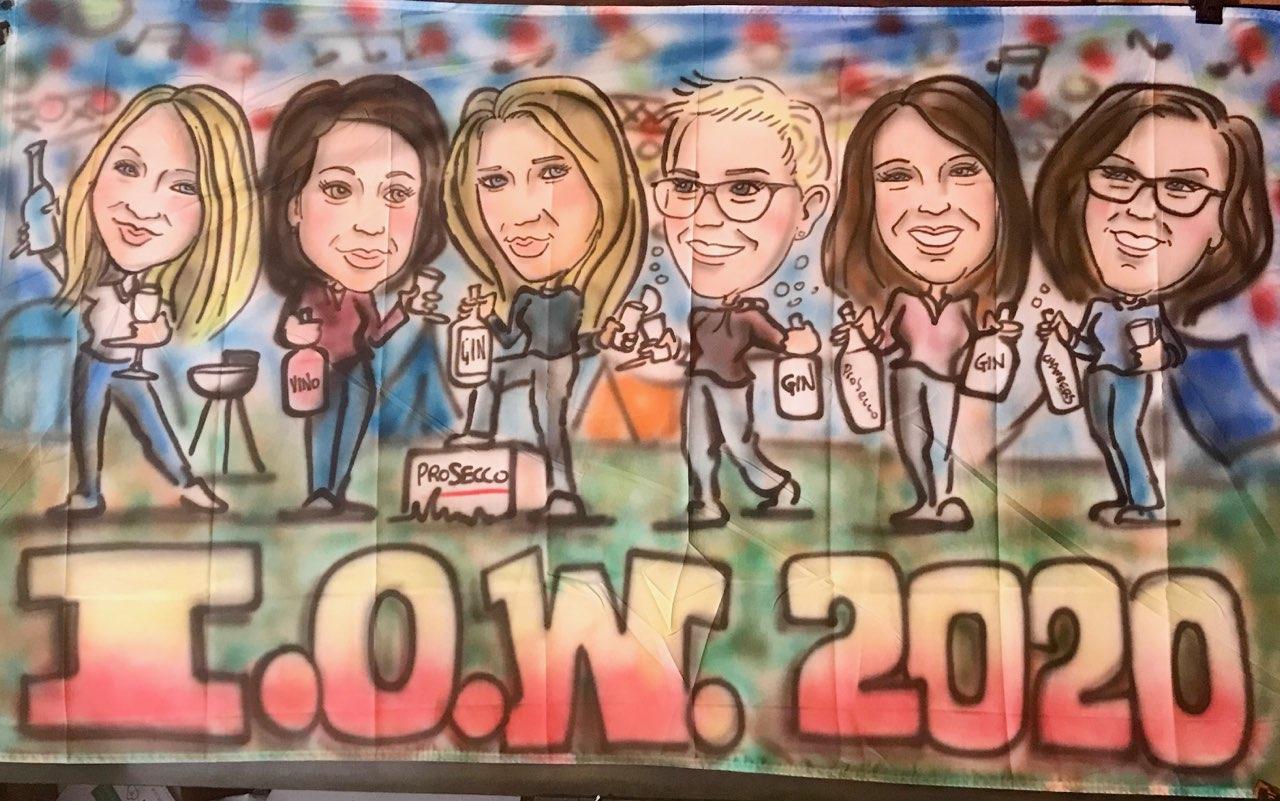 Unique Airbrushed Flags by Cookie
Recommend to a friend
DELIVERY & RETURNS
Learn how to edit the text in this section by looking at your theme's notes section.